"The soul of an architect responds to beautiful drawings," contends Steven House, AIA.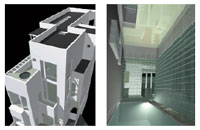 This is a basic tenet guiding the San Francisco-based architectural firm he and wife Cathi formed 18 years ago. So when House+House contemplated using something as inorganic as a computer to render the soul-stirring images they were renowned for, the idea seemed far-fetched.
"We believe very much in creating not just nice drawings, but exceptional drawings," Cathi said. "The work we saw being done on computer was clinical and clumsy; it didn't have the beauty of what we were doing by hand."
They also thought of CAD primarily as a production tool, used by larger firms to handle repetitious work. It didn't hold much appeal for a small firm designing custom homes. "Every home is so different from the next," Steven explained. "There is no repetition in our work, no standard details that we use.""So I was completely opposed to the idea of drawing on the computer," Cathi added. "But I had to pause and ask myself, "Do I think we can be a successful firm during this time period and survive without computers?" The answer was "no.""As long as I have a pencil I can do my work," Cathi said. "But if you are going to make it as a small company you have to have good survival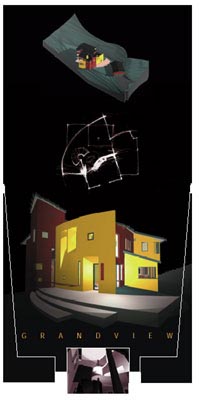 l skills."
Steven solicited advice from firms whose work they respected, and found ArchiCAD was the software of choice. That, coupled with the fact that the most interesting CAD drawings they saw were produced in ArchiCAD, convinced them to bring it into the office. Very few members of their five-person firm were computer literate at the time, so Cathi and two others enrolled in an ArchiCAD class at the San Francisco Institute of Architecture. After six sessions, they were ready to integrate CAD into their work.
"We wanted to bring it in dynamically, to see it do something stunning to impress us," Cathi recalled. They put it to the test by modeling complicated house designs based on existing working drawings. "We tried it out on small and large houses, using complex curves, flared walls it gave us the confidence that if we could do that, we could do anything." "The primary reason that we chose ArchiCAD was the fact that when you input information, rather than drawing lines you are creating a 3D model of a building. It offers immediate gratification and makes it easy to visualize."
They are particularly pleased with their ability to quickly browse multiple views, and to study lighting and work out a color palette in a fraction of the time it takes using manual methods. Inspired by the visual and tactile sensations they experience in their travels, it was important that they be able to translate this into ArchiCAD. "We needed to develop a rapport with the program, to find a common language," Cathi said. "ArchiCAD allows us to do what we could do already, and then adds to our repertoire of skills."
"Part of ArchiCAD's value lies in modeling and easy perspectives; you donıt need to put a lot of effort into it," Steven said. "But itıs worth it to take the extra step to create views with a different flavor. The results can be very powerful."
House+House are very hands on with their projects, working closely with builders, artisans and craftsmen to ensure that no detail goes unconsidered. "We are very excited about our explorations in ArchiCAD," Steven said. "And the potential it offers for us to communicate design ideas to our clients, our builders and ourselves."